Rec is fun for kids of all skill levels. Our rec program is one of the largest on the North Shore, with over 800 players and nearly 100 volunteer coaches.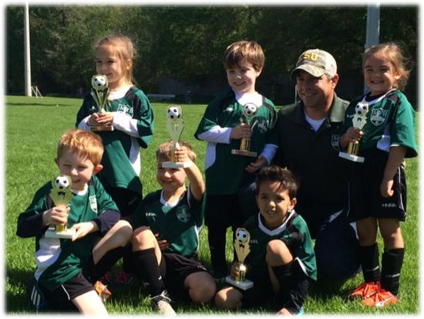 ---
Register through Coquille Park's registration sytem. Please visit the Coquille soccer registration webpage to register
Age groups are divided by birth year. Review the age group chart below so you know which age group to register under.
Need to know if you live in Rec District 14? Here is a map.
---
July > Fall Soccer Registration
September - November > Fall Soccer Games
December > Spring Soccer Registration
February - April > Spring Soccer Games
-- Games are on Saturdays.
---
A tailored experience by player age.
Birth Year
Age Group
League / Division
Registration Fee
Players per Team
Practice Schedule
2016
5U
Coquille 3v3 League / 5U Coed


6-8
1 per week / 45 mins
2015
6U
Coquille 4v4 League / 6U


6-8
1 per week / 45 mins

2014
7U
Coquille 4v4 League / 7U


6-8
1 per week / 1hr

2013
8U
Coquille 4v4 League / 8U


6-8
1 per week / 1hr

2012
9U
Coquille 7v7 League / 10U


10-13
1 per week / 1.5 hrs

2011
10U
2010
11U
Northshore Rec Soccer League - 9v9


12-15
2 per week / 1.5 hrs

2009
12U
2008
13U
Northshore Rec Soccer League - 11v11


15-20
2 per week / 1.5 hrs

2007
14U
2002-2006
15U-19U
Northshore Rec Soccer League - 8v8 Coed


13-16
2 per week / 1.5 hrs

---
Game Schedules
Game schedules are posted on your team page on the Coquille website.
To access your game schedule:
1. Go to www.coquillerecreation.com
2. Login to your account (Click Login in the upper right hand corner of the screen)
3. Select Team Central, Posted Schedules.
4. Use the drop down menu to select:
-- Program: 2019-2020 Recreational Soccer
-- Division: Your Division (Example: 5U Co-ed Birth Year 2015)
-- Schedule: Your Schedule (Example: 5U Fall 2019)
-- Select your team
---
Recreational Uniforms
Estimated Cost: $65
Required Items:
Green Jersey (Home Team)
Grey Jersey (Away Team)
Black Shorts
Black Socks

Purchase at:
Third Coast Soccer
1886 N. Causeway Blvd. Mandeville, LA 985-237-6100
Located between Stage and Times Grill. Uniforms are available all year long, so if you lose a pair of shorts or socks, head back over there any time they are open.
---
-- Shin Guards
-- Soccer Cleats (No Football or Baseball Cleats!) How to tell the difference:




-- Soccer Ball

5U-8U > Size 3

9U-12U > Size 4

13U-19U > Size 5

-- Water
---
The basic rules of the game are the same around the world. We modify some of the game rules for kids depending on age.
Basic Rules
Minnesota United FC gives you a quick introduction to the game.
A slightly more serious and thorough explanation of the Laws of the Game (but still short):
Modified / Detailed Rules by Age Group
---